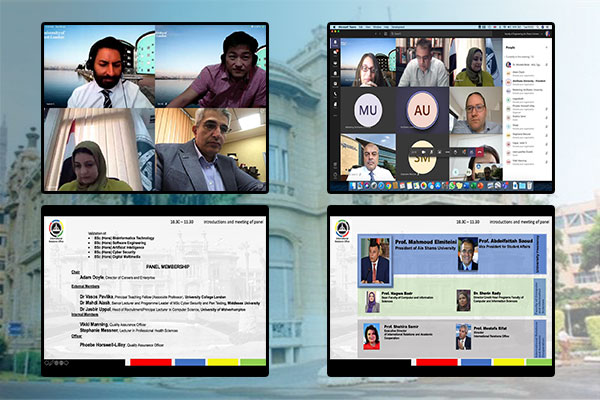 A delegation composed of professors from British universities in the United Kingdom and professors from the Agency for Quality Assurance of Education in the United Kingdom held a review of the accredited hour programs at the College of Computers and Information to approve five programs to grant the dual certificate.
• BSc (Hons) Bioinformatics Technology
• BSc (Hons) Software Engineering
• BSc (Hons) Artificial Intelligence
• BSc (Hons) Cyber Security
• BSc (Hons) Digital Multimedia
The delegation was received by Prof. Dr. Mahmoud El-Metini, President of the University, and Prof. Dr. Abdul Fattah Saud, Vice President for Education and Student Affairs, and from the College of Computers and Information Prof. Dr. Nagwa Badr - Dean of the Faculty of Computers, and Dr. Sherine Rady - Director of Credit Hour Programs at the College and Dr. Yasmine Afifi, Director of International Cooperation at the Faculty of Computers and Information, and for the International Cooperation Sector, Prof. Shahira Samir, Executive Director of the Sector and Vice Dean of the College of Medicine for Community Service and Environmental Affairs, Prof. Mustafa Refaat - Director of the International Cooperation Department and Director of Credit Hours Programs at the Faculty of Engineering - Ain Shams University.
Today, there were sessions to discuss the adoption of the five programs, and the strengthening of the concluded international agreements, mechanisms for working in programs, quality systems and continuous development were discussed. At the end of the sessions, the delegation met with faculty members, discussed them in the awarded programs, and reviewed their proposals.
After that, the delegation went on a virtual tour of all the laboratories and workshops of the faculty and the library, and met with faculty members and discussed with them the methods of teaching and academic advising and presented and discussed development proposals.
It is worth noting that the agreement stipulates that students of the programs granting the dual degree are treated as British students with all rights and duties for students registered at the University in London. And they have the right to use digital resources, access the university's websites, use the electronic library, and succession, and they have all rights when visiting the university in London and a reduction in fees if students decide or choose to study a semester or more in London, but travel is not compulsory as the dual certificate is granted For students upon completion of the study at the Faculty of Computers and Information in Egypt and adherence to the quality standards stipulated in the agreement.
The delegation praised the systems in place, the quality of education and learning methods. It was agreed on the axes of development and future visits of professors from the University of East London to teach and train at the college, in order to create an atmosphere similar to what is available for British students in London.