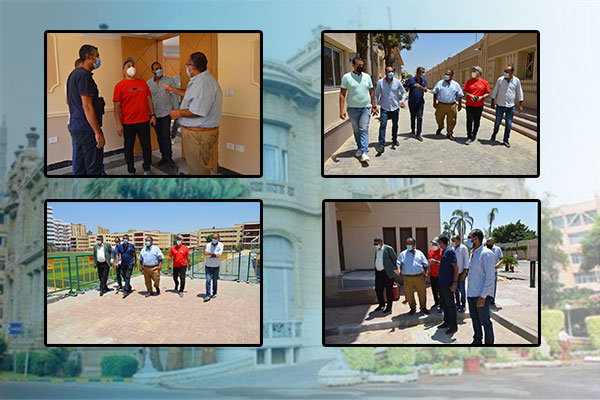 Prof. Dr. Abdel-Fattah Saud, Vice President for Education and Student Affairs, made an inspection tour of the Central Coordination Office of the Ministry of Higher Education and Scientific Research at its new headquarters at Ain Shams University, which is hosting it for the first time in its history. All possibilities for the crisis at all levels for the emergence of the Coordination Office in a suitable manner and in the interest of all the gentlemen working in it and our students.
On the administrative and service level, his Excellency met during his inspection tour with the administrative staff of the Coordination Office who expressed their admiration for the level of equipment and the available capabilities that would assist them in completing their tasks towards our students, the students in the fullest way. Their sincere happiness at the level of tangible development at all service levels in the office in terms of work system, speed of procedures and cleanliness of the place in light of the commitment to take all precautionary measures followed towards them by the gentlemen in charge of the system in the office.
On the security level, his sovereignty inspected the security units assigned by the Ministry of Interior to secure the office's headquarters to stand at the level of the security system, appreciating their efforts in securing the headquarters, and affirming the university's readiness to provide means of comfort and overcome all obstacles that may face them while performing their insurance duties and those who offered sincere thanks for the efforts. Made by the university to provide all their assistance needs to perform their security duties.
On the health level, His Excellency directed the intensification of health services provided to students by supporting the office with the largest possible number of doctors working in the General Administration of Medical Affairs to be on constant alert to deal with any medical emergency, stressing the need for permanent commitment to follow all precautionary medical measures (from temperature measurement and others To all the gentlemen who frequent the coordination office, including administrators and students
Finally, Prof. Abdel Fattah Saud, all the development work in the university theater and stadiums, which would enrich the capabilities of Ain Shams University in rehabilitating its students and graduating the best cadres and technical, sports, cultural and scientific skills.
His Excellency praised the efforts of all those in charge of completing the development work in the building of the Coordination Office, the theater and the stadiums in a record time and making it a service edifice that rises to the size and location of Ain Shams University and befits the level of services provided to our students.